Welcome!
Welcome to Canuck Real Estate's Toronto based Real Estate Newsletter. Founded in 2004, we are a fully Canadian owned and operated full service realty firm and we are here to make sure your biggest purchase is as successful and worry-free as possible. We pride ourselves in our service excellence in all aspects of real estate and real estate transactions. Let us show you how we can add tangible and demonstrable value to you and your family's financial and real estate aspirations. Please contact us to learn more about who we are and what we can do for you.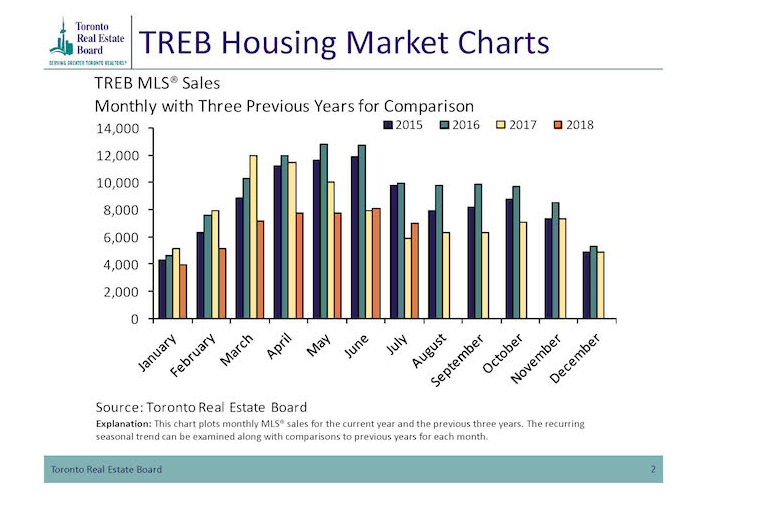 After a weak spring market it appears the GTA market has found its footing to some extent. Looking at the year over year numbers for June 2018, the average resale home price was$791,929 while in June 2018 the average resale home price rose to $807,871. Sales activity also increased slightly, by 2.4%. The TREB MLS sales numbers for June 2017 was 7,983 while in June 2018 the sales volume was 8,082. Relative to June of last year it is taking longer to sell a house. In June 2017 the average days on the market was 15 while in June 2018 the days on the market was 21.
As it was in the springtime, the condo market is still a positive segment of the GTA housing market. Condo prices are up 7.9% across the GTA while detached home prices are down 1.9%. Semi-detached and townhouse property prices are in the middle of the market, rising 1.7% and 3.2% respectively. As we suspected might happen in our spring Newsletter, we are seeing some more balance to the market when compared with last year's numbers. Instead of extremely positive or negative statistics we are finding statistics showing steady and slow growth.
Open Houses: What are the benefits
There are a lot of opinions about the usefulness of Open Houses in selling your home. We at Canuck Realty believe that Open Houses are a great opportunity to showcase and market your home for many reasons.
It is a great marketing opportunity for you to show your home to potential buyers who may not be currently working with a realtor and would just like to see homes in a relaxed fashion without the pressure of being signed up to a buyer broker agency agreement.
Neighbours are often interested in attending Open Houses in their area. Oftentimes these neighbours know someone who is interested in relocating to their area and if these neighbours are impressed with your Open House they will tell their friends and family about the opportunity to buy your home. We have found that your neighbours will often call these interested parties directly from your Open House to come down and attend immediately if they like what they see!
It is an effective method of marketing your property at a very low cost. The main cost is the time of your realtor and your realtor should be happy to conduct Open Houses as part of an overall marketing strategy for selling your home.
You can ensure your property is shown at its best. By meticulously cleaning, staging, and organizing your home in advance of the Open House you put out a good impression of your home to area residents and everyone who is interested in relocating to your area. Buyer broker showings will result from a successful Open House. Indeed you can often trace offers to purchase your home to an Open House visit from prospective purchasers.
If you are holding regular Open Houses it keeps you disciplined to keep your home in top showing condition.
Your realtor will also be able to assess who is interested in your home and will be able to execute a more successful marketing strategy based on observing attendees of your Open House.
All in all we strongly feel that if you don't hold Open Houses to market your property you are missing out on a golden opportunity to profile and sell your home. As part of a smart overall strategy to sell your home Open Houses are a winner.